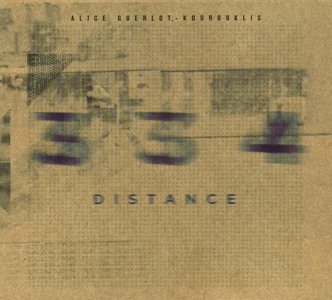 I've had this album for a week now, and I've been taking my sweet time really getting into it. Alice Guerlot-Kourouklis' 334, Distance is not one of those pieces of work that you can just jump into at any point and time, it requires the listener to be in certain mood and mindset. As the cover art above foreshadows, 334, Distance is work of mystery that takes time to uncover. It's much like some movies, where you watch through the first time and you're left scratching your head, but you know there was something special about it. You soon return to that film only to discover you enjoy it more because you're not worried about what's going to happen, you're now paying attention to how it exactly happened. Now, with each repeated viewing the movie continually grows on you because you're able to spot and appreciate the little details. This is exactly what Alice Guerlot-Kourouklis has crafted with her album.
Sweet, delicate melodies are matched with minimal electronica to create a sound so serene, you can't help but get lost within. At first listen, you know that there's something special and remarkable about what you just heard, but you can't quite put your finger on it. Soon you return to 334, Distance ready to really pick it apart. You know what you're about to hear, now it's time to find and appreciate the little details. Each repeated listen becomes a more rewarding experience. Eventually, the album isn't as mysterious and intimidating as it once was. 334, Distance then becomes a familiar piece of work that you easily find yourself getting comfortable with.
The biggest contributor of these mysteries was my lack of knowledge with the French language. Some tracks are sung in English, but for the most part, I took language out of the factor. I instead completely paid attention to the sound of the instrumentals and used the lyrics (both French and English) as sort of way points throughout the songs. What's important is that Alice Guerlot-Koutouklis' sound breaks the language barrier. You don't have to understand French to enjoy this album, you just have to love music.
Below are a few of my favorite tracks off of 334, Distance. If you're interested in hearing the whole album, you can stream it on Soundcloud for a limited time, or you can also find it on Amazon. Visit her website to learn more about Alice and her music.

Alice Guerlot-Kourouklis – Sweet Doubt by TheRecordStache
Alice Guerlot-Kourouklis – Drops Desert Part 1 by TheRecordStache
Alice Guerlot-Kourklis – I'm Gonna Be by TheRecordStache
– Matt