2.1.13
Thornbro - Taylor (feat. Mary Yount)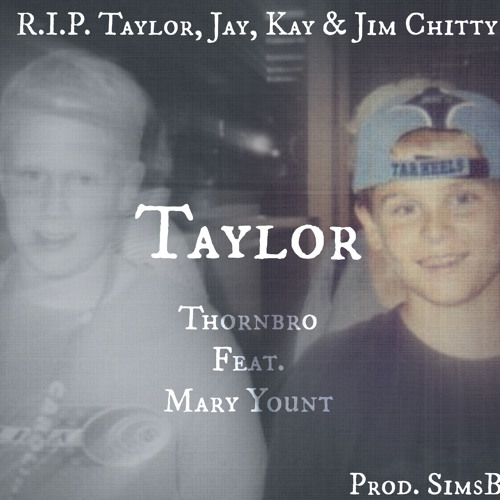 Following the release of "
No Stress
", UNC Chapel Hill's Thronbro is back with a new track titled, "Taylor". This is an extremely personal song about the loss of a friend, and family. The subject matter is something that most of us can relate to, and manages to tap into some old memories while listening. Thornbro describes the track's story better than I can, so I'll post his words below.
"On New Years Eve 2006, my best friend Taylor Chitty, his brother Jay, and his parents Kay & Jim, were all flying home from a North Carolina beach on their single-engine family plane. The destination was Shelby, NC, but they only made it to Charlotte where the plane crashed in a residential neighborhood. Taylor had been my best friend since 1st grade and his family was a second family to me. The world lost four amazing individuals on that New Years Eve. The song tells the story of the accident and how it has changed me to this day."
"Taylor" was produced by SimsBeats and features the vocal work of Mary Yount. Check it out below, and download for free.
-
Matt