Shields – Kaleidoscope EP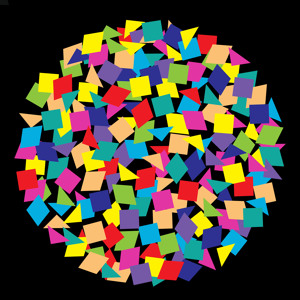 When I first heard Shield's debut single, "Mezzanine", I was immediately hooked. The band utilizes such a fun, upbeat sound that is universally appealing. Quirky, energetic indie pop is always a winner, and the addition of electronic, tribal inspired sounds grants Shields a golden ticket to hop aboard my iPod.
Today, Shields released their Kaleidoscope EP that definitely lives up to the talent that "Mazzanine" had previously hinted at. Every single track, from start to finish, could easily be a hit single, and these upbeat tunes will easily have you doing more than just tapping your feet. They're all out jams made for dancing, driven by catchy harmonies, a nonstop variety of percussion patterns, and just the right amount of guitar to keep your ears in a state of bliss.
I highly recommend that you head on over to Shield's website to listen to the Kaleidoscope EP. They've made listening an entertaining, interactive experience. Also, from there you can download the EP for free, or you can show your support and purchase it on iTunes.

KALEIDOSCOPE E.P by SHIELDS
– Matt