Chester French – Music 4 Tngrs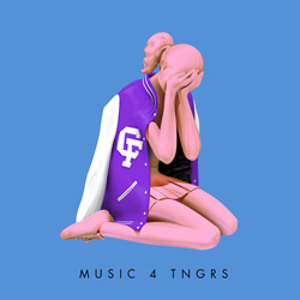 A few weeks ago, I was sent a press release asking if I'd like to review Chester French's upcoming album, Music 4 Tngrs. Unknowingly to the PR person who sent me the email, I was overcome with giddiness. You see, I have quite the history of being a Chester French fan. Way back in early 2007, before an unmastered version of their first single She Loves Everybody was featured in the closing credits of an Entourage episode, I was on Wikipedia reading about The Neptune's Star Trak label. I saw that Pharrell had signed this unknown band named Chester French, so I decided to search out this band. After crawling through sketchy alley ways of the internet, I came up with a few songs that would get me through until the release of Chester French's debut album, Love the Future. These songs consisted of She Love's Everybody, Pleasure Squad, Dance, People, My Party, and The Sister Song. Also, before the release of Love the Future they had put out an excellent mixtape titled, Jacques Jams Vol. 1.
The release of Love the Future opened up a world of new music to me. Just like Peter Gabriel introduced me to art rock, experimental, new wave, and well everything basically and how J Dilla introduced me to the world of underground hip-hop with its complete originality and craft, Chester French's Love the Future opened up the decade of '60s pop to me. I read that the arrangement of Love the Future was inspired by the Zombies' Odessey & Oracle. I searched out and fell in love with that Zombies album, and it is now one of my Top 5 favorite albums. I soon found myself lost in a world of '60s pop which opened up the genres of baroque pop, psychedelic pop/rock, sunshine pop, garage rock, chamber pop, classic soul, and classic R&B. I eventually had to buy a record player just to listen to some of these bands and musicians that I was discovering, because their music was not available in digital formats. Which then led to my obsession with record collecting. Come to think of it, I can trace this entire blog's existence back to Chester French's Love the Future. Whoa! I just had some sort of revelation.
This has all led up to today, the release of Music 4 Tngrs. Even though this new album is completely different than Love the Future, Music 4 Tngrs is equally great in its own right. Instead of soaking modern day pop in '60s influences, Chester French has taken a more straight forward rock mixed with electronic synths approach. The link between the two albums is that Chester French has kept their extremely clever, over the top lyrics, which is what has always made their music so fun to listen to. Every song heard on Music 4 Tngrs is its own sing-a-long anthem. I'm honestly surprised that Chester French has yet to break into the mainstream conscious, but I'm secretly thankful that Top 40 radio has yet to take notice and ruin the band's originality like it has to so many others.